Bank ATM UML Examples
Here we provide several UML diagrams of different types, all part of a Bank ATM model.
Bank ATM Use Cases
An automated teller machine (ATM) or the automatic banking machine (ABM) is banking subsystem (subject) that provides bank customers with access to financial transactions in a public space without the need for a cashier, clerk or bank teller.
Customer (actor) uses bank ATM to check balances of his/her bank accounts, deposit funds, withdraw cash and/or transfer funds (use cases). ATM Technician provides maintenance and repairs. All these use cases also involve Bank actor whether it is related to customer transactions or to the ATM servicing.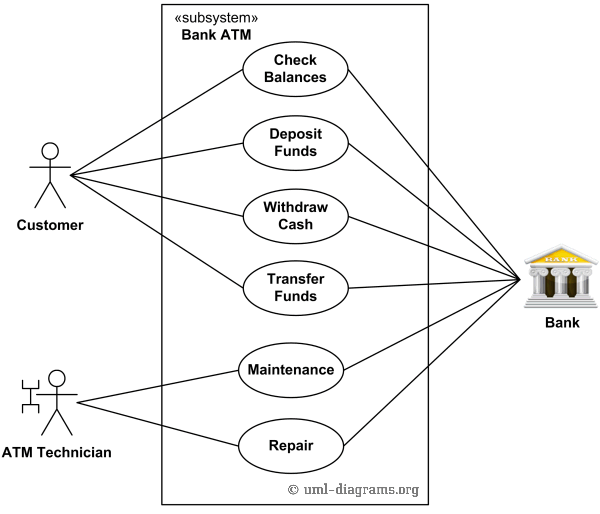 An example of use case diagram for Bank ATM subsystem - top level use cases.
On most bank ATMs, the customer is authenticated by inserting a plastic ATM card and entering a personal identification number (PIN). Customer Authentication use case is required for every ATM transaction so we show it as include relationship. Including this use case as well as transaction generalizations make the ATM Transaction an abstract use case.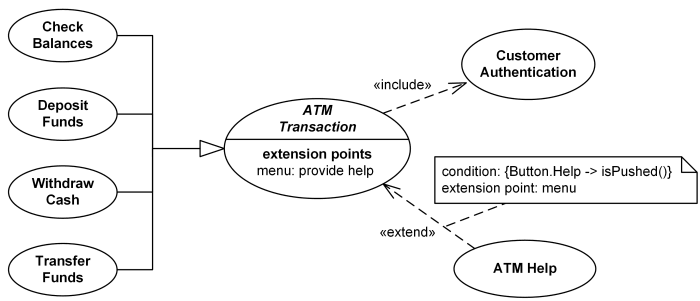 Bank ATM Transactions and Customer Authentication Use Cases Example.
If needed, customer may ask ATM for help. ATM Transaction use case is extended via Menu extension point by the ATM Help use case whenever ATM Transaction is at the location specified by the Menu and the bank customer requests help, e.g. by selecting Help menu item.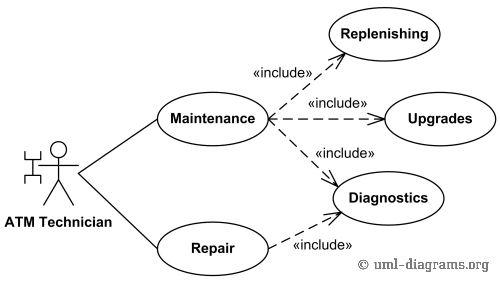 Bank ATM Maintenance, Repair, Diagnostics Use Cases Example.
ATM Technician maintains or repairs Bank ATM. Maintenance use case includes Replenishing ATM with cash, ink or printer paper, Upgrades of hardware, firmware or software, and remote or on-site Diagnostics. Diagnostics is also included in (shared with) Repair use case.
Bank ATM State Machine
This is an example of UML behavioral state machine diagram showing Bank Automated Teller Machine (ATM) top level state machine.
ATM is initially turned off. After the power is turned on, ATM performs startup action and enters Self Test state. If the test fails, ATM goes into Out of Service state, otherwise there is triggerless transition to the Idle state. In this state ATM waits for customer interaction.
The ATM state changes from Idle to Serving Customer when the customer inserts banking or credit card in the ATM's card reader. On entering the Serving Customer state, the entry action readCard is performed. Note, that transition from Serving Customer state back to the Idle state could be triggered by cancel event as the customer could cancel transaction at any time.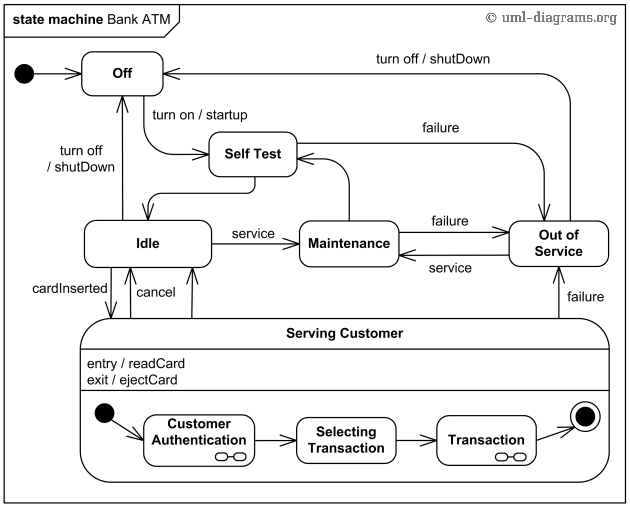 Behavioral state machine example - Bank ATM
Serving Customer state is a composite state with sequential substates Customer Authentication, Selecting Transaction and Transaction. Customer Authentication and Transaction are composite states by themselves which is shown with hidden decomposition indicator icon. Serving Customer state has triggerless transition back to the Idle state after transaction is finished. The state also has exit action ejectCard which releases customer's card on leaving the state, no matter what caused the transition out of the state.
Bank ATM Composite Structure
This is an example of UML internal structure diagram which shows composite structure of Bank Automated Teller Machine (ATM).
Bank ATM is typically made up of several devices such as central processor unit (CPU), cryptoprocessor, memory, customer display, function key buttons (usually located near the display), magnetic and/or smartchip card reader, encrypting PIN Pad, customer receipt printer, vault, modem.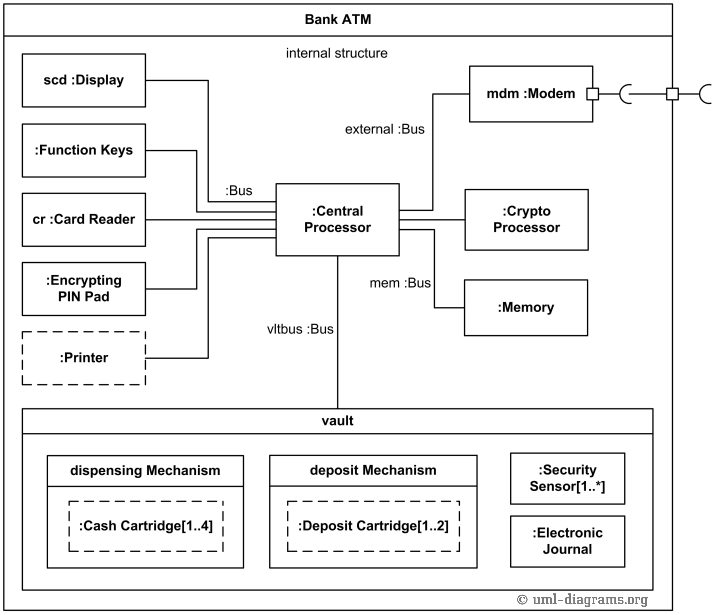 Internal structure diagram example - Bank ATM
Vault stores devices and parts which require restricted access, including cash dispensing mechanism, deposit mechanism, several security sensors (e.g. magnetic, thermal, seismic, gas), electronic journal system to maintain system log, etc. Cash dispenser includes several removable cash cartridges and deposit mechanism - removable deposite cartridges.
ATM is usually connected to the bank or interbank network via some modem (e.g. dial-up or ADSL) over a public switched telephone line or a leased line. Network interface card (NIC) could be used as a high-speed alternative in VPN connections.