Sentinel HASP SL - Activation of Trial Product
UML Activity Diagram Example
An example of activity diagram describing manual activation of trial (provisional) product which was protected by Sentinel HASP SL software key of the Sentinel HASP - software protection and licensing security solution.
Sentinel HASP protects against losses from software piracy and intellectual property theft. For example, it offers industry-leading support for licensing in virtual environments, and is the first software licensing and reverse engineering protection tool solution on the market to support J2EE applications.
Sentinel HASP software includes Business Studio - a powerful, role-based software licensing and management tool. The Business Studio is used by product, marketing and development staff to prepare software product for market and includes all of the tools necessary to license and lock application to a Sentinel HASP HL hardware or HASP SL software product key, to manage and track licenses, to create product keys that are later used for the product activation process, etc.
Three activity partitions are shown on the diagram as vertical swimlanes and represent actors participating in the activity - Order Management, Customer Service, and Customer.
Customer has some trial product installed, for example, some game or tool, which has specific trial period and could have some limited features or options. After using the product for some time customer decides to activate product by requesting a permanent, full product license.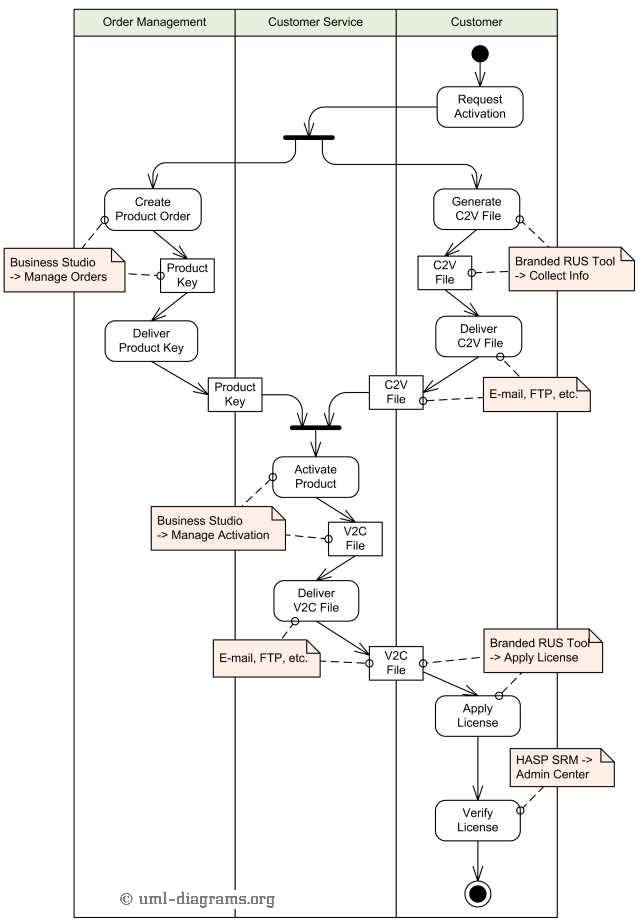 An example of activity for manual activation of trial product protected by HASP SL.
Order Manager will have to create a new activation key for the product while the customer could create and deliver C2V file ("computer fingerprint"). Once both the new product key and the C2V file become available to the customer service, it could activate product, generate V2C file and deliver it back to the customer.
The customer applies license received and thus activates installed trial product to become a full product. The product could be protected from copying to other computers or virtual machines by the HASP SL license and protection key.