Home Network
Network Diagram Example
Modern homes usually have a network of interconnected devices of different kinds and with various types of connections and communication protocols. An example of the home network diagram below shows one common configuration with the cable modem, wireless router combined with switch, TV set, Voice over IP (VoIP) phone, diverse computers and devices.
UML provides no special kind of diagram to describe logical or physical network architecture of the designed or existing system. Deployment diagrams could be used for this purpose with elements limited mostly to devices with neither artifacts nor actual deployments shown.
Incoming coaxial cable is split into two cables - one goes directly into TV set and another in the Touchstone cable modem TM822. The modem is DOCSIS® 3.0 (Data Over Cable Service Interface Specification) and PacketCable® 2.0 compliant and delivers both data and voice traffic. DOCSIS is an international telecommunications standard describing high speed data transfer over existing cable TV (CATV) system. The modem supports two independent lines of VoIP telephone service, and has a phone connected with standard phone cable. It also has Belkin N+ wireless router connected oto the modem with Cat5e Gigabit Ethernet cable.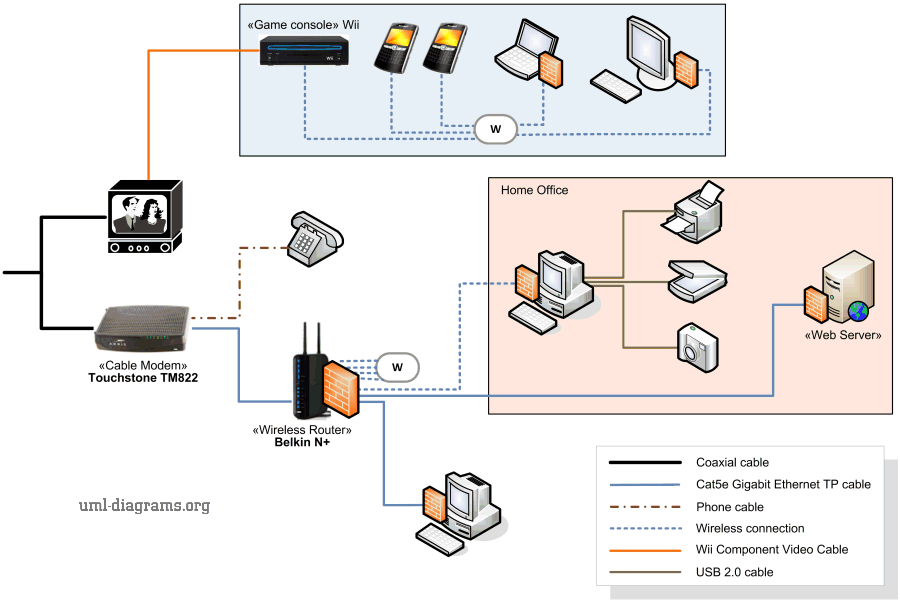 Example of home networking diagram - cable modem, wireless router, various computers and devices.
The Belkin N+ wireless router supports IEEE 802.11b/g/n wireless standards and employs Network Address Translation (NAT) to share the single IP address assigned by your Internet Service Provider (ISP). The Router has a built-in, Gigabit Ethernet, four-port network switch to allow up to 4 wired connections. The N+ router also includes a USB port for one storage device (flash drive or external hard drive).
The N+ is equipped with a firewall that protects network from a wide array of common hacker attacks including IP Spoofing, Land Attack, Ping of Death (PoD), Denial of Service (DoS), IP with zero length, SYN flood, ICMP defect, fragment flooding, etc. For wireless protection, the Belkin N+ supports both WEP (64-bit and 128-bit encryption) and WPA/WPA2-Personal (PSK). It also supports MAC address filtering.
Several devices have wireless connection to the router - Wii game console, some smartphones, laptop, Mac and home office desktops. The laptop and desktops have extra firewall software installed. Home office desktop has several devices attached using USB 2.0. There is also a web server connected to the router using Gigabit Ethernet wire to have faster and more reliable connection to the internet.